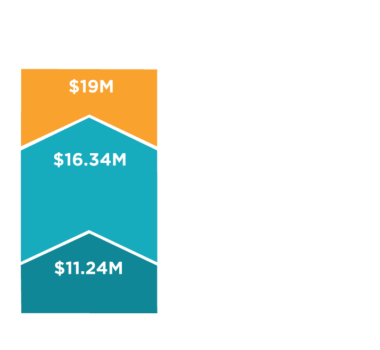 Over the past year, Christ Church has been mobilizing "to fuel a movement that reaches people and renews communities." We are doing this because we believe God commissions His followers to help lost people discover life with God, and that the church should be designed to equip everyone to Love God, Serve Others and Reach One. What makes REACH unique are our goals to expand our efforts both locally and globally over the next two years.
100% ENGAGEMENT
Our first hope is that REACH helps everyone who calls Christ Church home, grow in faith and Christ-likeness. REACH is a discipleship initiative before it is anything else. We want to see lost people find Christ, but we also want to see those who know Christ grow. Expect to be pushed.
$19M OVER TWO YEARS
The second aspect of REACH is a funding initiative. In order to fund existing operations and expand in new ways, we need to raise $19M. This breaks out as $12M for two years of operating expenses and an additional $7M to REACH.
TWO YEAR OPERATING BUDGET: $12M
Our weekly ministry environments matter. These environments create a culture of love, hope and mercy each and everyday…a culture that is foundational to the transforming power of the Gospel. We want to empower these environments within our current campuses, as well as our local and global mission programs.
A MOVEMENT THAT REACHES PEOPLE: $5.7M
The majority of expanded funds will be used to launch three campuses locally and six new churches overseas. The latter will chiefly be done in cooperation with our global partners in Ghana, India and Turkey. We will also invest locally in leadership development, evangelism training and discipleship. Our prayer is that 500 people will be baptized.
AND RENEWS COMMUNITIES: $1.4M
We want to help those struggling in Lake County, principally in North Chicago. In addition to funds, we intend to provide 100,000 volunteer hours between now and the end of 2020.
100 N. Waukegan Rd.
Lake Forest, IL 60045
847-234-1001