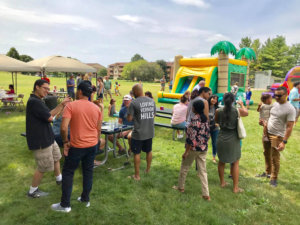 My friend and I are walking around the park inviting people to come to the free Christ Church Vernon Hills BBQ. As I begin to invite a couple, the lady interrupts me to say she is a vegetarian and not interested.
We kept walking and praying for the Lord to bring the right people. As we head back to the car we run into the couple again. She stopped us and said "Wait, are you guys part of a church?"
I hesitantly responded with a "yes."
She then proceeds to tell us, "My husband and I were just praying for God to send us a church in our own community. We are part of a group of friends who currently have to drive a long way and leave Vernon Hills to go to church but we want something that is here where we can invite our neighbors."
A few days later we saw her and her husband at the BBQ. It's stories like this that remind me of the need for a church in Vernon Hills and it's stories like this that excites me to see how God is drawing people to Himself.
-Jonathan Neef, Vernon Hills Campus Pastor